10th WORLD CONGRESS OF THE WORLD INSTITUTE OF PAIN (WIP)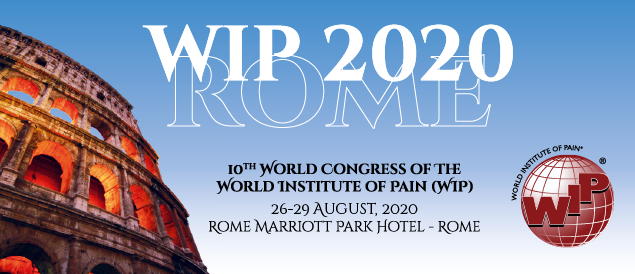 Rome, 26-29 August 2020 - Rome Marriott Park Hotel
Important news
As you are surely aware, the everyday life of a large portion of the world's population is now being influenced by the COVID-19 pandemic.
Due to the situation in Italy, the WIP Executive Board decided, during the conference call which was held on Saturday the 14th of March, to postpone the World Congress in Rome.
The new dates of the congress will be:  26-29 August 2020.
Click here for REGISTRATION: https://wip-rome2020.org/
videoclip WIP2020: https://youtu.be/MOhEhuFSoXY
For further information please contact:
Ann Hartley
More & More
Mobile:      +39 393 8039800
Office Tel:  +39 02 36597062
Skype: MoreMore Milan
Email:  ann.hartley@moremore.it
Program WIP2020


Program-WIP-ROMA 2020.pdf (910,5 KB)
REGISTRATION FEES_WIP2020


REGISTRATION FEES WIP 2020.pdf (239,4 KB)